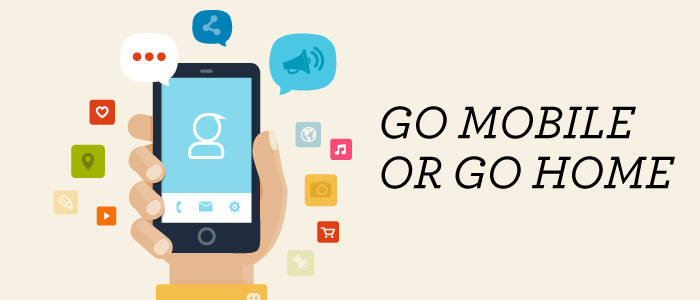 A Simple Guide to Becoming Mobile Friendly (and Google Friendly!)
You already know that to compete in today's digital marketplace, you need your website to be accessible not only through desktop computers, but smartphones as well. Recently, Google has announced something BIG: if your website is not mobile friendly to the revised guidelines by April 21, 2015 you will notice a significant drop in search result rankings. That Google has decided to enforce mobile friendliness is something new, so today, I'd like to present you with the two best options to help your business go mobile.
Option 1: Mobile Website
A mobile website is a separate version of your desktop website and is designed to be used exclusively on smartphone devices. This option does not carry over the SEO from your desktop website and will rely on the domain to create some basic rankings. While this option is faster and more cost-effective, it is usually used only as a substitute until a responsive website can be built, as it only address the immediate update for smartphones and not all mobile devices.
Features of a Mobile Website:
Usually includes a limited number of pages that are displayed on your desktop version
Links to your full desktop website so that visitors have the option to find additional information
Usually has an "m" at the beginning of the URL, for example, "m.yourdomainname.com"
Benefits of a Mobile Website:
A fast-loading mobile version of your website will result in lower bounce rates
Makes site navigation on a smartphone much easier
Can target specific pages to drive actions for mobile users
Option 2: Responsive Website
A responsive website is a website designed for use on desktops, tablets, and smartphones. It is the best long-term solution for your business with the most SEO benefit. The SEO done on your desktop website carries over to your mobile responsive site, giving you the best chance at beating your competitors in mobile search results no matter what device they are using.
Features of a Responsive Website:
One website for many different devices, keeping you Google compliant across all devices
Includes all of the content on your desktop website
The content of your website adjusts to fit the screen dimensions of the visitor's browsing device
A Responsive Website has several benefits:
Google recommends using responsive design when building mobile friendly websites
It is ideal for SEO since all of your webpages live on a single domain
It provides a consistent brand experience across all devices
If you would like to see if your current website is mobile friendly, go here: Google Webmaster Mobile Friendly Test
Choosing between a mobile website and responsive website really depends on your budget, goals, type of website, and industry. If you're unsure of which way to go or need some helpful advice regarding your website, feel free to contact us for some guidance. We can answer all of your questions and help you feel confident knowing that you are making the right decisions for our business.
For your free consultation, please call us at 1.855.815.8772